Technical Talent is too hot to handle!

Monday 21st October 2019
Technical Talent is too hot to handle!
At Peak Performance, we recently carried out an analysis of the searches we have executed since the start of 2017. Below we explain what trends we have discovered, highlighting some key findings.

Technical has a bigger piece of the pie.
Firstly, it is important to note that the number of technical jobs as a percentage of the overall has been increasing year on year. Below you can see that the year on year demand for technical talent is increasing significantly. We are only halfway through 2019 and we have already seen a 15% increase in technical vacancies. So, within the technical arena, what roles are in most demand?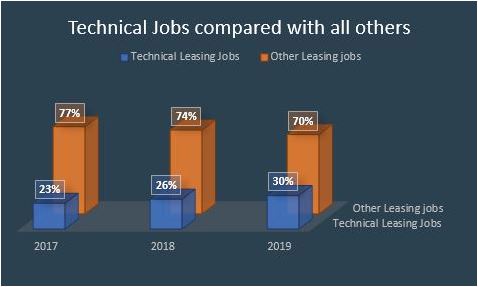 From the image below, we can see there is a consistent year on year demand for both VP and Manager level positions within leasing companies and this stands to reason, given the typically high volume of these positions in most companies across the aircraft leasing sector.

A function that clearly stands out in terms of its increased demand is Powerplant. We believe some contributing factors for this are the increased presence of private equity lessors in the market in the mid to end of life space, while larger maturing aircraft lessors understand the need to have specialist Powerplant managers overseeing their engine fleet.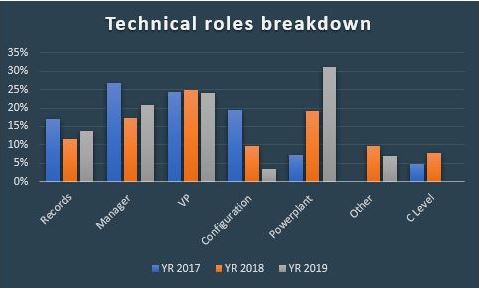 Dublin is heating up!
It is no surprise that over the past 2.5 years, the main hiring location is Dublin, Ireland. This may be because pressure is being applied to ensure companies have suitable substance in Ireland to avail of the corporate tax rates. Dublin also has the largest concentration leasing talent. When it comes to finding experienced talent it makes sense as a location coupled with the fact that support services are also in proximity. Although the USA has an established leasing talent pool, companies are spread out across several states making it more difficult when it comes to attracting talent .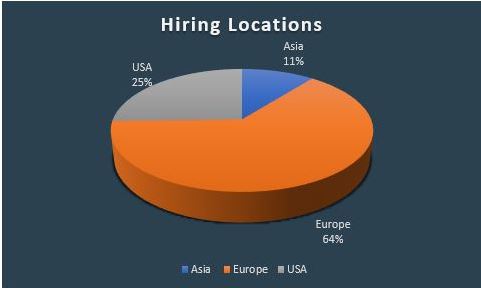 HK is a storm in a China Tea Cup.
Currently, the most difficult region to hire technical talent is Hong Kong. Notwithstanding the current political climate there are a small number of leasing companies located there. This therefore leads to a limited available talent pool. Some lessors simply have HK as a representative office and therefore not hired technical staff at this time.

Attracting talent to HK is also difficult due to the high cost of living. Many candidates considering relocation there have high expectations to compensate for the cost of living mainly driven by housing and schooling. In recent times we have seen more requests for technical talent in HK. Any successes achieved thus far through PPR have required relocation for the individual from elsewhere.
Singapore has a growing talent pool and we continue to see demand for technical talent here.

If you want to discuss the technical needs of your own company please contact us.